Huntersville North Carolina Party Rentals
If you're looking for party rentals in Huntersville, North Carolina, look no further than A Bounceable Time! We have a great selection of party rentals including inflatable slide rentals and bounce house rentals that are perfect for birthday parties in Huntersville as well as larger events too!
Whether it's Winter or Summer, renting a bounce house in Huntersville is always a crowd pleaser. Children love spending hours jumping on our inflatable bounce house rentals and sliding on our inflatable slide rentals!
While the kids love A Bounceable Time for the entertainment value, parents love renting from a company that takes their party needs seriously. Planning a birthday party with A Bounceable Time means no more picking and choosing friends to invite based on the budget. Our party rentals offer a great, economical way for your child to invite ALL their friends to enjoy an afternoon of fun!
With our online reservation system, renting from a company you can trust has never been easier! Order with confidence, knowing that we will deliver exactly what you ordered. We'll even send you a receipt with an image of your items!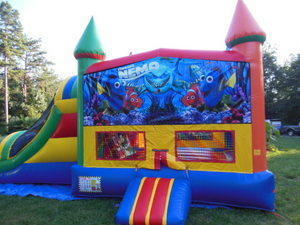 Let's face it, planning a special event in Huntersville can be stressful. From the above mentioned invitation list, to entertainment, to food preparation, planning a party can be time consuming and difficult. We know how important this day is to both you and your guests. That's why A Bounceable Time is committed to providing our customers with the best customer service in Huntersville. Taking care of our customers is what we're all about, and we take special care to ensure that your party goes off without a hitch.
Whether you're planning a small birthday party and only looking to rent one small bounce house, or planning a large church or school event and looking to rent several large inflatables, A Bounceable Time takes your needs seriously and has the inventory to make your special event a success!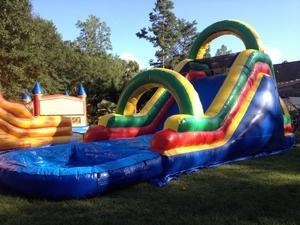 Speaking of larger events... if you're in Huntersville and planning a large event, you've got to check out our obstacle course rentals and interactive games. These larger inflatables are perfect for large events such as school and church carnivals and festivals as well as corporate events. Bounce house rentals are a perfect way to keep your guests entertained for hours. We also have giant inflatable slides for rent as well. These dry slides are a perfect compliment to their summer companions. Even though it's still cold outside, you can have all the fun that you would during the hot summer months with a water slide, but not freeze from the cold water!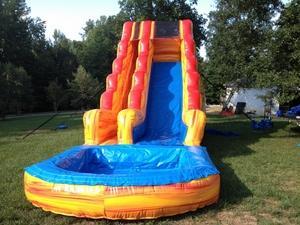 So, whether you're planning a birthday party or a festival for your Huntersville, NC school or church, and are looking for a bounce house rental in Huntersville or an inflatable slide rental in Huntersville, A Bounceable Time has the selection of party rentals that are perfect for your party needs. What are you waiting for? Head on over to our home page to find the party rental that's perfect for your party needs!