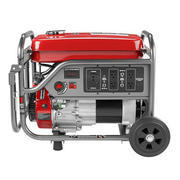 3500 watt gas generator great for single inflatables
$50.00
Dimensions:
Outlets:
Monitors:
Regular Rental Time = 4 Hours
Additional 4 Hours Rental Time Only $40 More
Renting 1 unit but need a power source? Our 3500 watt economy line of generators are perfect and can save you money over our larger, more powerful units. These generators are plenty adequate to power one inflatable fan with some room left for a concession or other low power appliances.
Not sure if its the right fit? Give us a call, we'd be happy to help you out.