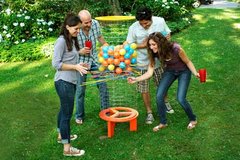 NEW Giant Kerplunk Game
$95.00
Dimensions: 4'x4'
Outlets: 0
Monitors:
Giant Kerplunk

This is GREAT! Kerplunk originated back in the late 60's as a tabeltop game. Today, we bring it to you as the jumbo, lifesize 5' version. All the thrills and fun on a grand scale. Place the rods in place, fill with the balls, then take turns at removing the rods without causing an avalanche!! great fun for all

Your Source for GIANT GAMES
* Create your own carnival game midway- ask us how!

* Delivery to the greater Charlotte nc & surrounding areas.